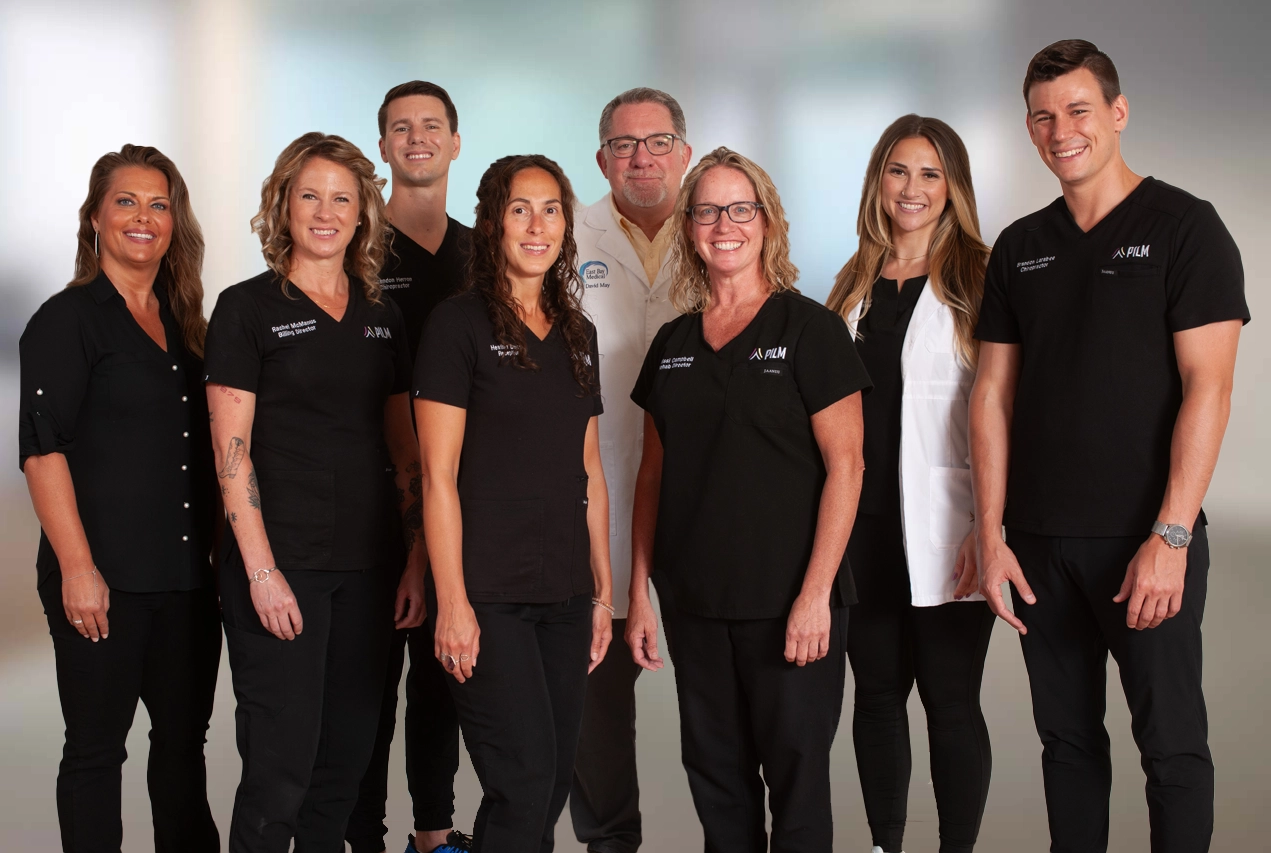 Co-Founder - Medical Director
David May D.O.
Dr David May has practiced in Traverse City for the past 20 years. He is board-certified in family medicine and is a certified Medical Review Officer (MRO). He is a graduate of Hillsdale College, where he received a BA in Political Economy with an English minor. Dr. May is also a graduate of Michigan State University, where he received a BS in Biology. Graduating from Michigan State University College of Osteopathic Medicine in 1997, Dr May completed his internship and residency in family practice in Grand Rapids.
He served in the United States Navy Medical Corps as a physician at the Naval Air Station Corpus Christi. Dr. May was appointed Senior Medical Officer and Department Head for Primary Care at Branch Clinic, Ingleside. Dr. May proudly served his country until 2004 when he was honorably discharged and he and his family relocated from South Texas to Northern Michigan. He currently lives in Northern Michigan with his family and enjoys all the abundant outdoor activities and beauty Northwest Michigan offers.
Co-Founder - Clinic Director
Brandon Larabee D.C.
Dr. Larabee was a chiropractor before taking on the role of clinic director at PILM. Dr. Larabee ran a successful chiropractic practice for 7 years and knows what it takes to get people well without drugs or surgery. He was limited by his chiropractic practice and wanted a solution to keep people out of surgery and to provide them with options beyond the scope of conventional chiropractic care or physical therapy. Dr. Larabee worked in conjunction with some of the most successful integrative medical practices in the world to develop PILM to get people well permanently without surgery or opioids.
In 2012, he graduated from Western Michigan University with a Bachelor of Science degree in Biology. Following the desire to help people live life more optimally, Dr. Larabee obtained a Doctor of Chiropractic degree at Northwestern Health Sciences University in Bloomington, Minnesota. Following graduation, he moved to Traverse City, MI to open Pathways Chiropractic.
Dr. Larabee's passion is to educate and support as many families as possible so they can live happier, healthier lives. He is eager to become a health leader and give back to the community in exciting and meaningful ways.
Nurse Practitioner
Lauren Nickerson F.N.P.
Lauren has 17 years of experience in the medical field. Before joining PILM she was a nurse practitioner in a local emergency room where she saw many people with chronic pain and musculoskeletal issues. She wanted a solution to help these people improve their quality of life without surgery or drugs and to actually reach their physical goals; in her words: "I became a nurse so that I could help people in my community, now I can say I get to actually do just that every day." Lauren is our main provider and an invaluable asset to the team.
Chiropractor
Brandon Herron D.C.
Dr Herron was raised in Suttons Bay, MI. After high school he earned his B.S. in Horticulture at Michigan State University. He received his Doctor of Chiropractic degree at Northwestern Health Science University in Bloomington, Minnesota. After graduation, he moved back to Michigan to help provide care to the community he grew up in.
Dr Herron uses diversified techniques along with Instrument assisted tools for a more gentle approach. He focuses on the body as a whole and treats every patient to their specific needs. Dr. Herron is a vital part of our integrated practice and works side by side with the team to give our patients optimum care. Out of work he enjoys golfing, fishing, snowboarding and most importantly spending time with his family and friends, and his dog Cora.
Case Manager
Lexie Peckens
Lex has been interested in the medical field since she was in elementary school. She studied massage therapy at Mind Body Institute directly after graduating high school in 2018. She has worked in home healthcare and dermatology as a medical assistant, growing her passion for helping people to heal and feel their best.
Lex has an affinity for connecting with every patient that walks through our door, and is fully invested in our patients overall well being. She is always smiling and embodies the core values we have here at PILM. In her free time she enjoys hiking, attending music events, or planning her next travel adventure.
Medical Assistant
Tiffany Robinson, CMA(AAMA)
Tiffany has been in the healthcare industry for 20 years. She has been a massage therapist for 10 years and has extensive training in the connections and functions of the musculoskeletal system. Her passion for fitness and healthy living permeate her home and work life and she has a wealth of knowledge on exercise and clean living. She has been a medical assistant for 6 years and was working with a local emergency room until we were lucky enough to have her join our team.
Rehab Technician
Jack Gierke
Jack graduated from Lake Superior State University in 2023 with a degree in Kinesiology. Jack has had extensive training in human performance with additional studies in nutrition and physiology. His experience working at the war memorial hospital has granted him the knowledge to work with a vast array of injuries and limitations. Jack's free time is spent fishing, enjoying hockey, and training for physique competitions. We are excited to have him as a member of our incredible team.
Rehab Technician
Jordan Schimke
After working in healthcare as a Certified Nurse Aid for 5 years, Jordan chose to pursue a more proactive and hands-on approach to helping others pursue their wellness goals as an RRCA Certified Running Coach and Personal Trainer. He then brought this knowledge to Pathways Integrative and Lifestyle Medicine, where he utilizes his experience with coaching to his duties as a Rehab Technician. His empathetic, humble and positive attitude towards health are just a few qualities that keep his patients encouraged and uplifted during their journey to better health and wellness. Jordan believes that every individual is capable of overcoming their own unique circumstances to live pain-free.
Jordan enjoys spending time with his wife and newly born daughter. They enjoy traveling, camping, hiking and playing music together. He aims to live by example for his family, friends, and patients by making time to run marathons and train for Ironman Triathlons in the mornings when his family is still asleep. Jordan's dedication to his personal goals and health make him a wonderful asset to our team at PILM!
Rehab Technician
Casey McQuade
Casey became interested in healthcare when she was 5 years old. She graduated from Davenport University with an Associate Degree in Applied Sciences, as well as a certificate in Medical Assisting and Phlebotomy. In college, she worked in the athletic training department as an assistant. Once she graduated, she began working years of experience in nursing homes, medical offices, and hospital settings. Casey brings a wealth of knowledge to her role as a Rehab Technician and we are lucky to have her. Outside of work, Casey enjoys spending time with family by traveling, snowboarding, hiking, and taking the boat out!
Massage Therapist
Laura Maier
Laura has been a certified massage therapist since June 2022. She attended the Mind Body Institute in Traverse City. Her passion for full body health and wellness led her to join our team. She focuses on deep tissue and therapeutic approach massage, yet is also skilled in other types of therapy as well. Her passion for health can be seen outside of her work in her love of sports, especially disc golf, spending time with her children and family, finding new adventures in nature, and testing herself with new work outs.
She is a monumental part of our integrated care as a therapist, and team member. Laura recently said "this is the most rewarding position I have ever held, and I am thoroughly excited each day to help patients live their best life.
Office Manager & Billing Director
RACHEL McMANUS, CPC
Having been with the Pathways team since 2020, Rachel was instrumental in helping to build the new integrated practice. She handles the processing of insurance claims, manages the office, patient accounts, and codes services for the providers. When she isn't at the practice, she can be found on her farm tending to her horse and her farm critters, running the trails along the lakeshore, cold dipping, or simply enjoying our region's beautiful landscape.
Front Desk
Heather Beers
As our Lead Receptionist, Heather manages patient schedules, connects with other medical offices regarding records, organizes patient files, and keeps the Providers flowing during the day. She has been in customer service for 25 years and finds immense pleasure in serving others with a smile and has a true passion for health, wellness and natural healing.
Heather believes that the mind, body and spirit are all connected and that we all can heal from the inside out. She can be found in nature, wild swimming year round, going on adventures, and spending time with her family and friends when she is not working.
OFFICE HOURS
---
Monday
9:00am - 1:00pm
2:00pm - 6:00pm
---
Tuesday
9:00am - 1:00pm
2:00pm - 6:00pm
---
Wednesday
9:00am - 1:00pm
2:00pm - 6:00pm
---
Thursday
9:00am - 1:00pm
2:00pm - 6:00pm
---
Friday
Closed
---
Saturday & Sunday
Closed
Pathways Integrative and Lifestyle Medicine